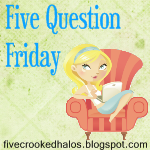 1. What's the one thing you buy every time you walk into the store?
Dr. Pepper. Its not that great for me I know but its better than a lot of other things I could be drinking.
2. If you had a day all to yourself how would you spend it?
Hmm all day alone? To my self? That is a foreign concept to me. I would probably take my time showering. Using all the hot water probably. Do some reading. Nap. Workout. Shower again. Eat food that's pre-made. Work on writting some songs. Nap some more. And maybe a bubble bath lol.
3. Are you a speed limit driver? If not, over or under?
Well I am a cop so I tend to try to go the speed limit. If by chance I get a speeding ticket it will look bad at work and I could be reprimanded so not the best idea but I do go over the limit more than I should
4. What's your favorite dessert to make, homemade or from a mix??
German chocolate cake. Homemade. I don't like cake mixes very often.
5. Would you rather have a spider or a mouse scurry across your face (no copping out and saying "neither!!")?
Mouse. Mice can be cute... As long as it doesn't bit me then I'm good. Might even pick it up and play with it.. .but a spider I would freak out a bit then chase it down and kill it. It picked the wrong man to crawl across.
Brutal Telling from the Wings of a Reawakened Dark Angel
by
Jay Fallen (JAF)
is licensed under a
Creative Commons Attribution-NonCommercial-NoDerivs 3.0 Unported License
. (answers only)